3rd of December is the UN international day of persons with disabillties. Article one of the UN CRPD layout's purpose is the present convention to promote and ensure the full and equal enjoyment of all human rights, fundamental freedom by all person with a disabilities , and to promote respect for their inherent dignity. The theme for the day is transformative solutions for inclusive development , the role of innovation in fuelling an accessible and equitable world. For me the aim of the day is to promote and rise awareness of batter understand of disability issues. Today the world population is over 8 billion people, and more than one billion people or approximately 15 per cent of the world's population , live with some form of disability , 80 per cent live in developing countries. Building on many decades of UN's work in this field of disability , the convention on the rights of persons with a disability adopted in 2006. Children with a disability are almost four times more likely to experience violence than non disabled children. Adults with disabilities are 1.5 times as more likely to be a victim of violence than without a disability. Adults with a mental health conditions are at nearly four time of experience violence. Apart from having this day we are in the middle of Disability History Month (16th November -16th December) It's important to reflect on developments , but still look to more changes. I would like to see more people in employment, I'm very passionate about this issue. From a recent report by the Office of U.K. Statistics in April to June 2022 53.1% (down) by 0.6 ) of disabled people in the uk were in employment , compared to 81.9% (up by 0.6) of non disabled people. People should choose whether they should stay up late, it's not up to a social worker or anyone else, as we all know years ago we had institutions and in my opinion they were a waste of money and not nice places. That's why self directed support is in place, a budget to use to support care needs, however in some parts of Scotland, many experience it's a postcode lottery. We need work to continue to raise awareness of disability issues, at the same time break down barriers.
It's quite the achievement to be recognised for 50 years service, in 2020 this milestone was reached by Hospital Broadcasting Service (HBS)
I joined HBS age 18 , part of the Friday night team as a request collector. I was lucky to be invited to attend a civic reception at Glasgow City Chambers to mark this, which as most events, had been pushed back 2 years during the pandemic. I was reunited with old colleagues, to celebrate this occasion, reminisce and hear about their current work. HBS is one of a few hundred radio stations in UK providing a radio service to hospital patients. The main hospital sites they serve are Queen Elizabeth University, Gartnavel General, Royal Alexandria(RAH) and The Beatson.




During my time at the station HBS weren't broadcasting over the internet at any hospital site, programmes are now broadcast 24 hours a day, though some of this is by automated system. We were different teams on various rotas , my job was request collection in the RAH in Paisley , then I took the request back to the station in Glasgow, looked out the songs and gave it to the presenter to be play. Going about the ward, meeting with patients. they were happy to have a chat, some don't get a lot of visitors so I'd make time to chat. 




 After a few years I suggested an idea for sports news to be added to Friday show,I moved onto producing the sports content. HBS is privately funded, so to raise money we ran a number fundraising events. I was part of a team still just halfway through their development, now they broadcast online, they've come a long way. 
 The work at HBS helped shape my career, for someone looking to get in to radio, I would recommend hospital radio as a good place to start. HBS is still going strong after 50 years, I look forward to their next milestone and to follow their developments, perhaps a visit to the studios soon.
There's a new TV series called Ralph and Katie, a spin off to the A Word, based around a family adjusting to an Autism diagnosis of their son called Joe. 
 The drama looked beyond the development of a child, also parents, uncles , aunts, grandparents and friends,the impact of Joe's diagnosis, lives not defined by autism. By the end of series 3 that extended family was well established ,the wedding of his grandfather's stepson , Ralph,who has Downs Syndrome, was a significant event. Ralph and Katie will follow the continuing the story of the couple, each episode featuring a different storyline, focusing on the domestic challenges they face. 
 Similar issues face by all newlyweds, but with an added ingredient in the mix as both have Downs Syndrome. This ground breaking series is created by Peter Bowker, the lead writer on the A Word. 
 Peter revealed early last year that the team working alongside him were all new and emergency disabled writers, chosen in partnership with the BBC writers room, bringing personal perspectives to the script. What I'd like the viewer to take away from the show , is to look beyond the disability labels, to watch it as a relationship drama,this will hope encourage more people with a disability who would like to move in to acting. Also this is more representation for people with a disability on TV and break further down the employment and social barriers, by creating more role models.
Every 6th October is World Cerebral Palsy day , there are over 17 million people across the world living with cerebral palsy, another 350 million people are closely connected to a child or adult with cerebral palsy.
Cerebral Palsy is defined as a group of disorders that affect movement, muscle tone, balance, and posture.
I have cerebral palsy, often known as CP , I'm proud of who I am, as like all disability, it doesn't define me , it's not a label. If people would like to know more about my disability, I'm open and honest about it.
When I was growing up I had to learn to to walk without a zimmer, and attend a speech therapist, I went to a disability school , also known as a special needs school but I don't like that name.
My fellow pupils were children with similar disabilities , we did the same type of school work. The school I went to was in Glasgow, I lived outside of Glasgow, they provided transport by bus to and from school.
I would say they were small differences from my school to a mainstream school, pupils got one to one support in and out of class, also speech therapy and physiotherapy.
Looking back now I had a lot of good support, however the only thing I was lacking was my confidence. I think my first paid job helped me there, as I worked for The Scottish Consortium for Learning Disability, I was part of a team.
We travelled up and down the country doing public speaking, I shared my journey in my life, that helped my confidence, to realise how far I'd come.
I met friends through work and still great friends today. Fast forward to today , I'm disability campaigner and freelance journalist , I've also been lucky to be commissioned to do news stories and features on important disability issues.
On this World CP Day, like every disability ,we just need to keep on raising awareness, knocking down the barriers in our way ,and be proud of who we are.
As the world is perhaps starting to see the light at the end of a very long tunnel , many governments are considering the implementation of vaccination passports as a way to reopen normal life while controlling the pandemic.
Everyone will be coming at this from different sides, I don't think this is a good idea, without a perception of removing human rights and freedoms.
Many people aren't able to take the vaccine due to medical reasons
, they would miss out if passports are introduced, how would this be managed?
Though the world may be slowly opening back up confusion over passports may stop people from going out, I have always advocated for not giving people labels, this may take progress back decades.
If vaccination passports are introduced in some form, there are many factors to be considered, particularly for people with a disability who have stigma of being different. There are still major accessibility issues in U.K on whole, stopping the spread of Covid is Factor X.
In the longer horizon, as venues start to reopen friends will start to socialise, ultimately not everyone could have vaccine passport, this would create impossible and cruel divisions in society.
How would such segregation work in every day life? Going to work, to school, shopping, public transport? Already the pandemic has divided society and isolated many, surely there has to be a solution which is universally fair, compassionate and manageable.
In Scotland we have overcome many battles against Covid 19 , I would like to believe that as the R number continues to shrink, we won't fall at the last hurdle.
It's so important no matter what your disability,or age, that we all have the right to an independent life. 
This was well highlighted in recent BBC documentary called Katie Price- Harvey and me.
 Katie's son Harvey was born in 2002, soon after he was diagnosed with Septo - Optic Dysplasia , a rare genetic disorder affecting his eyesight, he also has Autism and Prader Willi syndrome , causing a hormonal imbalance which causes weight gain, learning disabilities and behavioural problems.
 On the documentary Harvey celebrates his 18th birthday, he requires 24 hour care ,unable to control of his weight ,his needs are complex, with limited social skills this is often very stressful for him.
 His birthday marks another milestone, it's time for him to leave school and find a college best matched to his needs, anyone with a disability ,parent or carer would say this transition is not easy, that's no difference for Harvey and his mum.
 The documentary was a good insight into their relationship , and shows Katie's strength and abilities as a single parent.
During a visit to the Orpheus Centre, a college in Surrey who provide therapy to disabled young adults through performance arts , unfortunately loud and unexpected noise, banging of a door, distressed Harvey and he threw his head repeatedly against a door. Harvey asked for no sudden noise , a rare clear request to prospective college guides, but as they couldn't do this both Harvey and Katie realised not the right fit.
 When they went to visit National Star college in Cheltenham Harvey was distressed , worried he would have to stay overnight ,he refused to get out of the car and whimpered.
Their guide, a teacher called Alice ,showed him a social story with pictures of what he could expect from the hours ahead. Alice used a blend of clear questions and Makaton to Harvey, took them a full tour of the college,including sensory area, involved Harvey in some art and interactive work that was going on. Katie and Harvey found the right match, have applied to National Star and they'll find out in March if they have,hopefully, been successful.
 The chief education officer tells Katie they will put in a funding application to the local authority, detail everything that would be provided for Harvey.
 For example, in this college a part time day student may be £15,000 to £20,000 a year to meet their support needs,but a student in full time, all year round residence, with greater support could be up to £300,000 to £350,000 a year.
 Local authority approval depends on Harvey needs, and where they feel is the best match for him. Katie must ensure his education health and care plan (EHCP) ,a legally binding document in England detailing the support he must receive, is up to date.
 She must deal with Harvey education attainments , health problems and also the medication he requires , tasks he can work to complete whether he can cook for himself and clear up, dress , make the bed and personal hygiene. His social awareness is currently limited and Katie admits she has done everything for him. As with many disabled young people transitioning into adulthood, this is a daunting time for both them and their parents,while being overseen by local authority and can often not be a smooth transition.
I can't believe it's 25 year anniversary of the Disability Discrimination Act , which was passed on 8th November 1995.
The definition of discrimination is being treated unfairly or put at disadvantage for a reason that relates to your disability.
There are six main types : direct discrimination , indirect discrimination , failure to make reasonable adjustments , discrimination arising from disability , harassment and victimisation.
The legislation which was introduced in to prohibition discrimination on the grounds of disability.
It was significantly extended in 2006 to include areas such as employment and education.
The hope of having this act is to remove the barriers to employment, as in today's society it is still a big barrier .When it come to employment in Scotland today ,approx 9 in 10 of the general population has jobs , that is not the case for people with a disability and individuals on the autistic spectrum ,where only 4.1 people in 100 are in employment, with just 1.6 in 100 people are in jobs or 16 hours or more.
This is clearly defined discrimination, as i know a lot of talent individuals that would love to work ,but not giving a chance, I think employers should do more, they should see what people can bring to the job ,not look at their disability.
In 2020 we should not see discrimination in any walk of life, sadly it is still out there. This doesn't just happen in employment, but also access when out and about, like going to different venues, restaurants, clubs etc.
Many people advise they can't get into a venue , as no proper access , again discrimination , as we all have the right to a night out and everyone else from a party can get in.
Transport is a barrier as well and i know that some train stations are not accessible to get in to and that is before you get on a train i dont know this is still an issues.
I do hope we're not talking about these same issues in another 2 or 5 years,even another 25, that the social landscape for disability equality levels out and barriers we struggle are removed,leaving an open playing field.
I campaign on a lot of different issues, I'm passionate about these, as a freelance journalist I'm frustrated at the low level of disability representation in TV and media.
When I turn on news or factual programmes, there are very few presenters with a disability, or on panel shows whether topical or general news items.
When it comes to acting Hollywood is falling behind British TV, more recently producers have created a number of disabled characters with multi layered storylines ,and hired disabled actors in the roles.
The only time when growing up I saw disabled representation on TV was a storyline where a disabled child was born to able bodied parents. In 2006 Eastenders' character Honey give birth to a daughter with Down's Syndrome, played by Grace, viewers have followed her on screen journey, Janet is now 13.
From 2014 to 2018 Eastenders introduced a character called Donna Yates, she was in a wheelchair. The role was play by Lisa Hammond who has Pseudoachondroplasia and joint hypermobility.She revealed in an interview October 2015 that she received abuse from strangers in the street because of her disability. She spoke about how her wheelchair use received backlash from the public. "The main image of wheelchair users is that of paralysis. So when I get out of my chair to do a scene on my feet, people don't like it. If I'm feeling good and want to walk in that scene, I will. But if I can't or pain levels are bad then I'll use my chair. I've been shouted at. I've had people say, 'Oi, why are you in a chair when you were walking on EastEnders last night?'"
On the opposite channel Coronation Street in October 2015 introduced adult character with down syndrome Alex Warner, played by Liam Barstow. He started acting in primary school,then joined Mind The Gap, a leading disabled theatre company in England.
Emmerdale actor James Moore who plays character Ryan Stocks, lives with cerebral palsy. He won the best newcomer at the National Television Awards in 2019.
It is not just on soaps we are trying to break down the barriers in 2018 Britain's Got Talent crowned Lost Voice Guy , the first ever stand up comedian to win the show, aka Lee Ridley , who has cerebral palsy. Lee performs using an electronic voice box. Runner Up that same year was Robert White, also a comedian, who has Aspergers.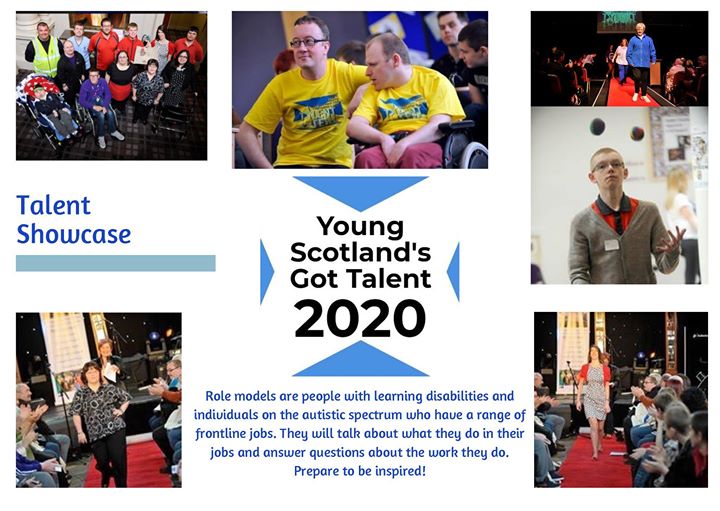 There has been some progression in modern times of representation and equality for people with a disability, but one major hurdle remains- getting into employment. 
There are a number of good employment support organisations who tirelessly campaign for disability equality in education, and employment.
 Values Into Action Scotland , Scottish Commission for people with Learning Disabilities and many partner organisations currently run an annual event called Young Scotland's Got Talent (YGST)
 Since it's inception in 2010 the event has brought together all the relevant agencies who give advice on employment , hold fun workshop , showcasing the talent of young people with a learning disability or autism with interesting jobs , and also invite keynote speakers from different industry sectors.
 The event centres on a catwalk with a difference, as people with learning disabilities strut their stuff in work uniform, finishing with an interview by the compere about their job, to inspire the audience.
 In past years YGST has been a national roadshow into different towns and cities, to highlight issues and try to break down some barriers into employment.
 Scheduled events this year were quickly postponed with the rapid onset of Covid 19 lockdown restrictions.
 With new technology such as Zoom coming to the forefront of 2020 life, some of the event was moved to a fully online platform, and topically focussed on young people with a disability currently working on the front line.
 During the event a total of 36 visitors attended the virtual showcase, which was presented and coordinated by a cross teams from the different organisations who make these events a yearly success.
 Apart from creating a fun space, information and atmosphere for young people , and their families to help them to get jobs, the main focus is to look at the talent, not the disability,this is an avoidable label which should never be a consideration over ability for a role.
 These events are necessary to promote employability, but in a more equal society , we wouldn't need to have this platform. We still need to have this for now , to keep this issue to the forefront, and highlight that disability equality in employment still has a long way to go.
 In Scotland in 2020, approx. 9 in 10 of the general population have jobs, not so for people with learning disabilities and individuals on the autistic spectrum , where approx. only 4.1 people in 100 people are in employment, with just 1.6 in 100 people in jobs of 16 hours or more.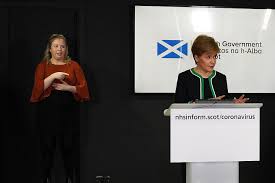 In my last blog i was talking about the issue of Human rights during the lockdown, and relevant to something on our TV screens daily.
From the start of the pandemic Scottish and UK governments have been holding a daily news conference , I noticed a major difference, that the UK conference doesn't have a sign language interpreter.
The lack of BSL creates a major risk to public health, if people who are deaf are unable to understand key updates and advice being issued in the daily briefing.
As a result deaf campaigners have started legal proceedings against the UK government .
A Twitter campaign is running call #wherelstheinterpreter? which has now morphed into class action legal case.
COVID-19 affects everyone in all walks of life, and British sign language (BSL) users fairly say they are been discriminated against. In response to media questions on this Number 10 advised that they have a agreed to interpreters on the news channel so we'll just have to wait and see.
In Scotland in 2015 British sign language act was passed, making it compulsory to have BSL interpreter in person or on video at government briefings, or on visual communications.
At the Scottish Government briefings the interpreters stand 2 metres behind the ministers , similar to Wales and Northern Ireland whose interpreters are shown on a small screen in the room.
It is important that everyone is equally represented during such a critical situation, one which is entirely new to us, but the message has to be the same , that information is shared to all , in a way that can be clearly understood and followed. 
I hope to see BSL interpreter on Westminster daily briefing soon , and more so that we start to come out of lockdown in a gradual way , that is safe and can be followed by each of us.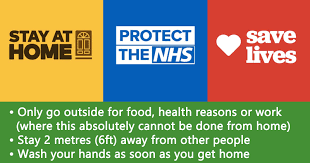 We may all be experiencing a lack of control of our lives in this COVD-19 pandemic, as we struggle to understand what is happening around us and try to follow government guidelines.
Though we may not be aware of them, each of us are covered by basic human rights, particularly in this moment, daily life can feel very different.
The world is being pushed to adapt but should still be mindful of our rights , we have to make necessary changes in our busy lives, while it may feel that some rights are being taken away, like freedom of movement to visit family and friends. The way we shop at the supermarket has changed, as we are limited to how many can safely enter, and keeping to social distancing.
We should be concerned that carers,people with a disability and long term conditions must feel at this time,and to get the right support they need
I've been talking to some carers in the past few weeks, they have been going round supermarkets to try and get everyday essentials ,which have been sold out ,and they also worry what would happen if the carer takes ill.
Caring is a full time job as many people with a disability or long-term condition can't isolation themselves as thoroughly as others , they need regular hands on help to do everyday tasks such as personal care , making meals , handling finances and getting to appointments
When I'm taking about carers i mean both paid and unpaid. People often do not think of themselves as a carer particularly those who don't ask for other for help.
It's important that all public has accessible information, that's why I welcome organisations who are publishing key facts about the virus and guidelines in a easy read way, designed for all.
There is currently misleading news being circulated on social networks , that's why easy read information is critical as a reliable source.
I think more awareness need to be raised of human rights and also simple steps to ensure people with any disability don't feel excluded from everyday life, these may include writing things down when you are using a face mask, for the benefit of people who lip read, and creating flash cards for people with autism.
Human Rights Day is observed by the international community each 10th December. It commemorates the day back in 1948 when United Nations General Assembly adopted the universal declaration of the name Human Rights.
The Human Rights Act gives us all the protection of individual rights such as to live, or right to a fair trial. There are in total 16 rights.
This legislation guarantees that people have the means necessary to satisfy their basic needs like food , housing and education.
I miss being around my friends and family, though I can still see them and talk to them online, it's not the same. That feels like a basic right is being taken away from everyone for the moment, but we will get it back in time, when it will be good to see people face to face again .
As a disability advocate I spend most of my time campaigning on different issues like getting the right support by asking questions to my local council or government , and to stand up for the rights of people who often can't find their own voice.
While it's a particularly stressful time for everyone, we need to put emphasis on looking out for each other, though most importantly we must look after ourselves and acknowledge our human rights.
The Coronavirus outbreak has everyone spooked , hopefully we're joined in taking steps to control of the outbreak and preparing to get through this very challenging time as one
We should all come together and help each other as a community, also thinking about people in our community with a disability and how will this impact them and their carers in Scotland.
We all need to think about the messages we're putting out, I would imagine people will be feeling confused , overwhelmed and panicking.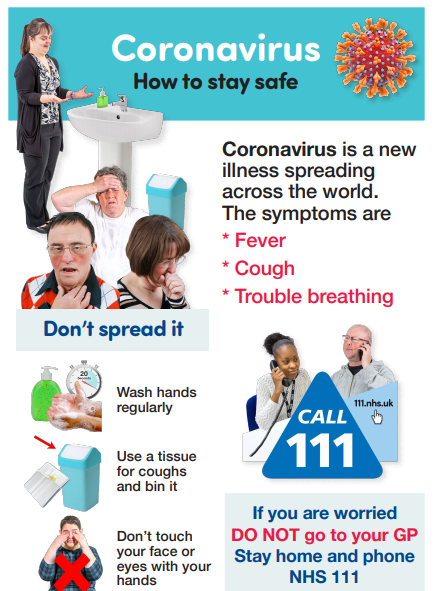 I think there is an urgent need for clear and accessible advice on the coronavirus for people with disabilities an long term conditions, as many people with a disability can't isolate themselves as thoroughly as other , they need regular hands on help from other people in daily life.
 A number of organisations are to be commended who've so far published information on how to keep safe in a easy read and designed to be accessible to all. All public and statutory bodies need to be mindful of this when prodcing information about the impact of COVID 19, particularly if it concerns how social care and support is provided
 The public should be made aware of the need to take simple steps to ensure people with disability are not excluded from everyday life. We can all help by raising awareness and now is not the time to impose what you think is best for other people. If you live or work with someone ,or care for  those , who may be particularly vulnerable to the virus , please take the risk seriously and extra careful with your own precautions , so you can remain healthy and able to help
 I know that some carers are worried about this , as they will have to go out to the supermakets to get everydays item which are rapidly selling out,despite appeals from supermarkets not to panic buy, allowing them time to restock .
I wouldn't like to think what would happen if the those who need carers are left without vital support, particularly as getting a doctor's appointment would be another obstacle.
 I would like to say well done to carers and support organisations, keep up the good work , during this incredibly challenging time.
 If you know any one in your community with a disability , long term health condition or mental health issues , try to ask how are they are, or give them a call, it's always good to hear a friendly voice in isolation . It is important we look after each other , though crucially we must look after ourselves and keep safe.
 Arrangements will be in places for people in receipt of benefits who can't attend assessments of jobs centres appointments , if they are required to stay at home because of Covid 19.
A single message would be to say keep well , stay safe and together we will get through these most challenging days, weeks and months