The Coronavirus outbreak has everyone spooked , hopefully we're joined in taking steps to control of the outbreak and preparing to get through this very challenging time as one
We should all come together and help each other as a community, also thinking about people in our community with a disability and how will this impact them and their carers in Scotland.
We all need to think about the messages we're putting out, I would imagine people will be feeling confused , overwhelmed and panicking.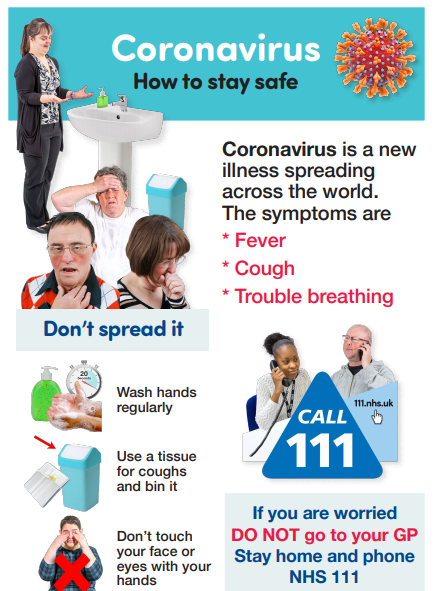 I think there is an urgent need for clear and accessible advice on the coronavirus for people with disabilities an long term conditions, as many people with a disability can't isolate themselves as thoroughly as other , they need regular hands on help from other people in daily life.
 A number of organisations are to be commended who've so far published information on how to keep safe in a easy read and designed to be accessible to all. All public and statutory bodies need to be mindful of this when prodcing information about the impact of COVID 19, particularly if it concerns how social care and support is provided
 The public should be made aware of the need to take simple steps to ensure people with disability are not excluded from everyday life. We can all help by raising awareness and now is not the time to impose what you think is best for other people. If you live or work with someone ,or care for  those , who may be particularly vulnerable to the virus , please take the risk seriously and extra careful with your own precautions , so you can remain healthy and able to help
 I know that some carers are worried about this , as they will have to go out to the supermakets to get everydays item which are rapidly selling out,despite appeals from supermarkets not to panic buy, allowing them time to restock .
I wouldn't like to think what would happen if the those who need carers are left without vital support, particularly as getting a doctor's appointment would be another obstacle.
 I would like to say well done to carers and support organisations, keep up the good work , during this incredibly challenging time.
 If you know any one in your community with a disability , long term health condition or mental health issues , try to ask how are they are, or give them a call, it's always good to hear a friendly voice in isolation . It is important we look after each other , though crucially we must look after ourselves and keep safe.
 Arrangements will be in places for people in receipt of benefits who can't attend assessments of jobs centres appointments , if they are required to stay at home because of Covid 19.
A single message would be to say keep well , stay safe and together we will get through these most challenging days, weeks and months 
Categories: My Blog Space