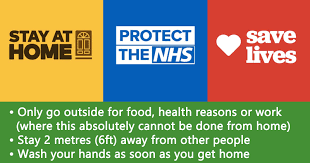 We may all be experiencing a lack of control of our lives in this COVD-19 pandemic, as we struggle to understand what is happening around us and try to follow government guidelines.
Though we may not be aware of them, each of us are covered by basic human rights, particularly in this moment, daily life can feel very different.
The world is being pushed to adapt but should still be mindful of our rights , we have to make necessary changes in our busy lives, while it may feel that some rights are being taken away, like freedom of movement to visit family and friends. The way we shop at the supermarket has changed, as we are limited to how many can safely enter, and keeping to social distancing.
We should be concerned that carers,people with a disability and long term conditions must feel at this time,and to get the right support they need
I've been talking to some carers in the past few weeks, they have been going round supermarkets to try and get everyday essentials ,which have been sold out ,and they also worry what would happen if the carer takes ill.
Caring is a full time job as many people with a disability or long-term condition can't isolation themselves as thoroughly as others , they need regular hands on help to do everyday tasks such as personal care , making meals , handling finances and getting to appointments
When I'm taking about carers i mean both paid and unpaid. People often do not think of themselves as a carer particularly those who don't ask for other for help.
It's important that all public has accessible information, that's why I welcome organisations who are publishing key facts about the virus and guidelines in a easy read way, designed for all.
There is currently misleading news being circulated on social networks , that's why easy read information is critical as a reliable source.
I think more awareness need to be raised of human rights and also simple steps to ensure people with any disability don't feel excluded from everyday life, these may include writing things down when you are using a face mask, for the benefit of people who lip read, and creating flash cards for people with autism.
Human Rights Day is observed by the international community each 10th December. It commemorates the day back in 1948 when United Nations General Assembly adopted the universal declaration of the name Human Rights.
The Human Rights Act gives us all the protection of individual rights such as to live, or right to a fair trial. There are in total 16 rights.
This legislation guarantees that people have the means necessary to satisfy their basic needs like food , housing and education.
I miss being around my friends and family, though I can still see them and talk to them online, it's not the same. That feels like a basic right is being taken away from everyone for the moment, but we will get it back in time, when it will be good to see people face to face again .
As a disability advocate I spend most of my time campaigning on different issues like getting the right support by asking questions to my local council or government , and to stand up for the rights of people who often can't find their own voice.
While it's a particularly stressful time for everyone, we need to put emphasis on looking out for each other, though most importantly we must look after ourselves and acknowledge our human rights.
Categories: My Blog Space