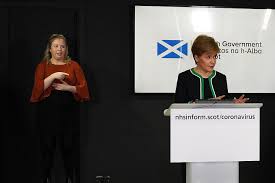 In my last blog i was talking about the issue of Human rights during the lockdown, and relevant to something on our TV screens daily.
From the start of the pandemic Scottish and UK governments have been holding a daily news conference , I noticed a major difference, that the UK conference doesn't have a sign language interpreter.
The lack of BSL creates a major risk to public health, if people who are deaf are unable to understand key updates and advice being issued in the daily briefing.
As a result deaf campaigners have started legal proceedings against the UK government .
A Twitter campaign is running call #wherelstheinterpreter? which has now morphed into class action legal case.
COVID-19 affects everyone in all walks of life, and British sign language (BSL) users fairly say they are been discriminated against. In response to media questions on this Number 10 advised that they have a agreed to interpreters on the news channel so we'll just have to wait and see.
In Scotland in 2015 British sign language act was passed, making it compulsory to have BSL interpreter in person or on video at government briefings, or on visual communications.
At the Scottish Government briefings the interpreters stand 2 metres behind the ministers , similar to Wales and Northern Ireland whose interpreters are shown on a small screen in the room.
It is important that everyone is equally represented during such a critical situation, one which is entirely new to us, but the message has to be the same , that information is shared to all , in a way that can be clearly understood and followed. 
I hope to see BSL interpreter on Westminster daily briefing soon , and more so that we start to come out of lockdown in a gradual way , that is safe and can be followed by each of us.
Categories: My Blog Space